Ravi Viswanathan of Grover Zampa dazzles Delegates at India Wine Summit
In what started as a mild Address, the speech delivered on Sunday at the at the India Wine Summit by the Keynote Speaker Ravi Viswanathan, a French citizen of Indian descent, living in Singapore but controlling the Grover Zampa group which has seen incredible changes in the last couple of years, became the highlight of the Conference at the delWine Summit & Excellence Awards with hard-hitting facts about the industry and possible solutions, writes Subhash Arora who decided to publish the Speech with minimum edits to keep it soulful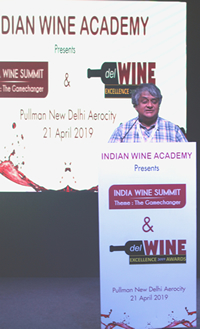 A word of apology first! Karl Marx 's mother said something like he should have accumulated some instead of writing about capital. In the same spirit, instead of talking about wine we should be drinking some. Alas, the organisers have asked me instead to pontificate on the subject and I am sorry to be the first of many roadblocks between you and your glasses. (nothing would please me more than to have continually filled in glasses of wine on such occasions but then wine and casual chat would take precedence-editor).
The Dream World
Imagine a hypothetical universe where in June1757, the Nawab of Bengal and its French allies defeated East India Company in the Battle of Plassey and where subsequently the French went on to defeat the British in other regions of India. 
In that universe, you would have the same delightful accent in English as me 250 years later. French and Indian cuisines have intertwined and dominate the fine dining scene in the world with such iconic dishes as Dosai de Bretagne, Jackfruit Ratatouille, Paneer soufflé or my favourite, the Bouillabaisse Chettinad.
In that universe Indians today drink 20 billion bottles of wine annually, about half the total world production, and the owner of the sole whisky distillery in India has been invited to our delWine Excellence Awards Evening at Pullman, out of sheer pity and patronisingly. Out of that, 10 billion bottles are from domestic wine makers, producing as much wine as France and Spain put together. There are 3 million acres of vineyards from Shimla to Ooty and about 3 million jobs in and around wineries and as shop assistants and as sommeliers in restaurants. State coffers are overflowing with bountiful tax revenues with the wine industry contributing to the tune of $200 billion to GDP directly and indirectly; alcoholism is not a massive public health issue.
Back to Reality
Alas, in our real world the Brits won the Battle of Plassey-and quintessentially the English way. Robert Clive bribed the commander in chief of the Nawab who switched sides with his 50 000 troops. Clive thus started the grand tradition of bribing high ranking officials in the sub-continent. 
And as with cricket and the English language itself, Indians quickly adopted that tradition as their own and soon developed it to an art form. In our universe, the British won. Their only notable contribution to world cuisine (yes, fish and chips) has traumatized kids in the canteens of boarding schools across the country and overseas. Whisky is widely used to digest chicken. And the States tax wine much more per degree of alcohol content than any other drink.
Victim of History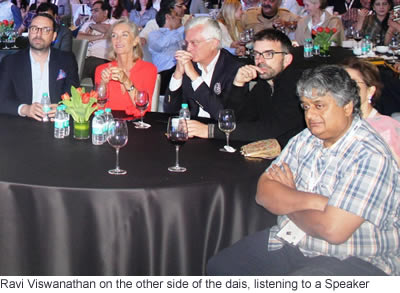 Because of that unfortunate sequence of historical events, our wine industry is today a bit like the famed Schrödinger cat, both dead and alive. Nobody quite knows for sure. But most of the challenges we face are of our own making. And it is time to shed some light on some of our more glaring mistakes:
India vs. the Rest
What differentiates the wine industry in India from the rest of the world apart from scale? One key difference is that India is the only major country where, once wine becomes a mature industry possibly in a generation, the playground will be dominated by a handful of companies (possibly 1-3). Almost everywhere else around the globe, the industry is very fragmented with tens of thousands of wineries in every major wine country; Romania has 850 000 wineries, even England has 553 for 6 million bottles a year. It takes 553 Englishmen to do half of what Rajeev Samant does! Tiny Luxembourg needs 326 wineries to produce about as much wine as Sula and Fratelli together. All of them survive profitably. Not possible in India so far.
Wine is about diversity. You can drink the same whisky every night, but you will never drink the same wine every night. At least I don't and won't.
So, we need to help small boutique wineries grow and thrive. The very survival of wine as a lifestyle element in India is at stake and the best way to achieve that is by changing the economics of the industry whose value creation is mostly captured by a tiny portion of the value chain. Wine- scheme levels are absurdly high and that is unique to India. They contribute to inhibit growth and prevent farmers, consumers and wineries from having their fair share or any share for that matter. 
Pricing of drinks in F&B outlets also needs to be more sensible. Just an example, I had a glass of the same wine in Paris and Bangalore, weeks apart. At one of the restaurants owned by Alain Ducasse it costs about 500 INR per glass. In a 5-star hotel in Bangalore 1100! The French restaurant bought that wine at a higher price than the Indian counterpart. The wine was produced in Bangalore!
Overpricing & taxes
To my friends in the F&B industry, please kill not the goose that lays golden eggs. And the same comment goes for tax authorities across this country. Wine is not taxed in India-it is being pilfered by the authorities. In the face of such adverse market conditions, the only viable answer for wineries is consolidation and hyper growth for survival (perhaps at the expense of quality) with the end result possibly as bland and boring as the big beer industry today.
Indian bureaucracy
The wine industry faces many other challenges. Indian bureaucracy is a major one. And despite repeated promises in each electoral cycle, nothing ever changes. Indian politicians and bureaucrats are like a pure black hole. And we know that real black holes in reality are not that black! Change the mindset of our bureaucrats is a task as Herculean as unrevelling the mysteries of the quantum world!
We have often absurd laws about alcohol, agriculture, and absurd tropical weather and many other hindrances but we still make good wine and they get better and better every year. Since I have been an investor in this industry there has been a quantum leap in the quality of Indian wines (such as the one Boisset and Fratelli collaboration a year ago or the KRSMA portfolio). Our wines are now proudly featured in the wine lists of some of the best restaurants in the world although astonishingly, it is simpler to get Indian wines into a fine dining establishment in Singapore or Paris (or New York as Uma Chigurupati pointed out later in a panel discussion) rather than in a casual eatery in Delhi or Hyderabad.
Craze for imported wines
The general public in India by and large thinks there are 3 wine categories: red, white and imported. The aura that imported wines enjoy in India is a mystery to me since about 90% of them are blown away in any blind tasting against much cheaper domestic competition. To paraphrase Marx (the witty one, not the writer of Das Kapital), in India today "most entry level imported wines are to wine what military music is to music".
Level playing field
Jokes aside, the domestic industry cannot thrive without a successful import business, especially with wine where consumers seek diversity and new discoveries all the time. The condition sine qua non for this is to massively lower import duties and to create a level playing field between domestic and imported wines in all aspects which is not the case today. 
For example, a few years back, some bureaucrat in Delhi had this notion that India needs to generate valuable foreign currency by subsidizing imported drinks in 5 star hotels with no import duty- sheer idiocy and bad economics. Since Adam Smith, we know that subsidies that distort the market are a fallacy.
Another outrageous example among many is that some states are open to foreign wines and not to domestic wines. This is clearly a subsidy to wealthy foreign winemakers paid out of the pockets of Indian farmers. India is the only major agricultural economy in the world that subsidies foreign agricultural products. Makes you wonder what our politicians are smoking! 
Despite being in favour of cutting down substantially import duties, the only caveat I have is that high custom duties should remain in place to roll back the invasion we are witnessing of cheap and low quality wines from Chile, Australia or elsewhere where cost of land is practically nil,  the vineyards are fully mechanized, vineyard capex is negligible thanks to an ideal climate and substantial state financial subsidies are in place. Many may not realize it, but India is not a low-cost producer of wines. At the risk of sounding like Donald Trump, let's build a great wall against mediocre wines but let's allow in quality wines with preferential terms. 
Everyone will be a net beneficiary of lower import duties: consumers, F&B outlets, retail shops, government coffers (central and state)- even the domestic producers thanks to more competition and a much-increased pool of domestic consumers.
Heavy land prices
A thorough review of agricultural land policies is also urgently needed. You expect agricultural land in India to be cheaper than appellation controlee vineyards in France. Fully producing vineyards in France can cost 1/3 of the price they fetch in India. I know! We are buying some at Rs. 6 lacs an acre fully planted with aged vines that can easily last another 50 years. If I invest 20 lacs in an acre in India, I will have my first good harvest in 4 years with life expectancy for vines of a maximum of 20-25 years! Dozens of often well-meaning rules about agricultural land also inhibit our growth and that of our farmers and ultimately inflate prices for consumers
Middle classed and women offer hope
Against this backdrop of hurdles and regulatory mazes and climatic challenges, there are rays of hope. I am a firm believer in the future of the industry. The growth of our industry is supported by the unstoppable growth of the Indian middle class with its new generations of young educated urban men and women. 
The leading role of the Indian women in the growth of wine consumption, in particular at home, should not be underestimated. Everyone in this country still remembers Marquise de Pompadour 'champagne' from Indage. The Marquise was an unusual character and the mistress of Louis XV (and I digress: La Pompadour used to say :"Champagne is the only drink that leaves a woman still beautiful after drinking it." 
It is quite clear that modern day Indian women agree with Jeanne Poisson, Marquise de Pompadour. And for us, wine producers, women are far more important than men as consumers for the long run (rare enough in the alcobev industry to be noteworthy). As one of the many small steps recognizing this fact, and before the next India Wine Summit, in my own company we would have achieved gender parity at the Board level.
India will compete with China
I expect India in 25 years to have a wine market as large as China today of about 3 billion bottles (including 1 billion of imports)-a growth of 20% per year over 25 years for domestic wines.
500 million Indians will be occasional drinkers for 1 billion bottles per year (weddings, corporate parties, the odd foreign client coming to visit and going out with you for dinner). 200 million Indians will drink regularly a few glasses a month for another billion bottles. And 50million Indians will drink wine routinely like the average European or American for another billion bottles. And remember also that about 100-200m Indians will travel overseas every year on business trips or holidays and consume another billion bottles there (one is usually thirstier beyond the visual range of one's better half!).
Changing trends
The average consumer is more likely to be a woman than a man. And whites will overtake reds as the main type of wine consumed. It is unlikely we will ever make the best wines in the world (impossible to beat Burgundy), but thanks to our climate and terroir and the skills of our people, our best whites today are much closer to the best whites in the world than our reds are to their counterparts. 
The only Indian wine to ever win the top award in a serious international competition was a Sauvignon Blanc. Some of the barrel aged Viognier from India today are tough to distinguish from a Condrieu. Given our warm climate and spicy food, a chilled white is ideal and as women take on a more leading role in consumption patterns the share of whites and roses will steadily increase to parity and beyond.
The next 25 years critical
It is feasible to reach these lofty goals in 25 years, but this requires a lot of stars to align. It requires all stakeholders to team up and coordinate efforts to grow the pie for the greater good. A bit of wishful thinking! But other even more unlikely miracles allegedly happened like 2000 years ago during the Easter weekend!
It also requires the Indian government to help our industry with subsidies for research in tropical viticulture, funding for trade shows, soft loans for vineyards and wine tourism projects, duty free imported capex and export incentives as all developed economies do. Market distorting subsidies are bad but subsidies that undistort markets are a necessary evil.
All wine producing countries insist their diplomatic missions overseas serve domestic wines in their official functions. Despite Make in India, the Indian government has done nothing on this simple and obvious matter. Another example: when I was at ProWein, every wine producing country except India had a joint booth for their producers with government funding. 
Excise Laws must be revisited  
It also requires laws to be adapted to the new digital economy to allow for online sales like almost every major economy on earth. Online sales and legal home deliveries of wine like any other grocery item are essential for the future.
It also requires excise rules to be completely revisited. Today, too few restaurants carry wines in India, and even if they do the wine list is often microscopic and prejudiced hence you might think "why not bring my own bottle and even pay corkage". It is illegal almost everywhere in India and can get you in jail. The laws ought to allow carrying your bottle on payment of corkage, if any.
Another example: my personal cellar is somewhere around 10 000 bottles. In India, excise rules don't allow you in most states to have more than the number decent enough for a long lunch with friends. With 10, 000 bottles, I'd be headed for jail in India (unless big brother steps up to pay a massive amount).
And don't get me started on intra state-rules about alcohol. 
GST Purviews
It requires the government bringing alcohol into the GST purview and creating a common market for wine across the States like the EU even if legislation, distribution systems and other aspects remain specific to each State.
It also requires the industry to structure itself to have a louder, more cohesive and coherent voice when it comes to interactions with policymakers. Sadly, but bluntly we have no clout within South or North Block in Delhi and their state counterparts. They have no clue about who we are and more importantly they cannot imagine who we will become.
It also requires all the stakeholders to invest more into wine education possibly with funding coming from all of us setting aside a fraction of the added value generated at every step in the wine economic cycle. 
Interacting with consumers and educating them is critical to our long-term survival. Also in dire need of funding are educational programs to train future employees at vocational schools and universities and R&D efforts, especially in tropical viticulture.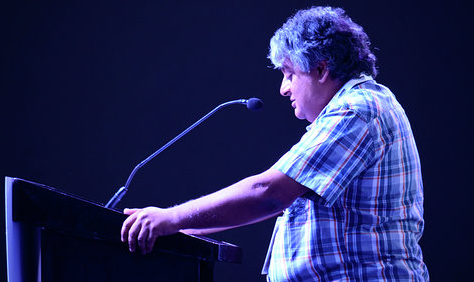 It also requires creating an environment where small boutique wineries can thrive and not be condemned to a life of losses funded by generous shareholders. Wine is a businesstoo, not only a passion.
It requires placing our industry at the forefront of the fight against climate change and for sustainability and the challenges are mighty there. 
Fight against Climate Change and other issues
Can we design and operate systems to capture the CO2 released during fermentation? 1 ton out of every 1000 ton of CO2 released by mankind every year comes from the alcoholic fermentation of grapes. There is currently some work going on around this subject.
Can we compost and re-use all the agricultural waste? It is a short-term objective for most wineries here. And we are as advanced as any winery in the world.
Can we save precious water? Apart from sensibly using drip irrigation we are now exploring sub soil irrigation and hydric stress sensors on vines and ways to push down the root system of our rootstocks to save even more water.
Can we move to solar energy? Headway has been made in that area, starting with Sula. In order to save even more electricity, cement tanks have been introduced with a much higher thermal inertia than stainless steel. There is also an experiment starting this year to put solar panels above the vines, helping them with shade and lowering evaporation. If it succeeds, in a few short years we could well become net contributors of renewable energy and not net users.
Can we become even more green and organic? Research is going on around the world for greener viticulture and winemaking processes. Wineries even in India are constantly on the lookout for new ideas that can be implemented here like horse manure or insect frass or experimenting with natural pesticides. Glyphosate is a weed killer used extensively in agriculture including viticulture but suspected of causing cancers in humans. 
A total ban is likely to be implemented soon in the EU and other parts of the world (and is in existence in Punjab and Kerala). Some wineries in India have already taken steps to restrict it and ban its use over the next 2-3 years in anticipation of a global ban. It is not without cost since this will add about 5 rupees per kg of grapes. And there is work ongoing for a robotic de-weeding system to be deployed and tested in our vineyards next season. It is indeed urgent to create a more sustainable ecosystem and Indian wineries are doing their part.
The future is bright but...
The future is bright indeed but there is still plenty of hard work left to achieve it. Let me digress and mull about a quirky part of quantum physics: the Heisenberg inequality.  Werner Heisenberg was a German physicist and a genius. While we are talking of Germany, our friend Subhash was allegedly seen loitering happily and recently around the Rhine Valley and its many wine estates. Here is a quote for you, from Mark Twain in his book titled and, with uncanny premonition, "A Tramp Abroad". The Germans are exceedingly fond of Rhine wines; they are put up in tall, slender bottles, and are considered a pleasant beverage. 
One tells them from vinegar by the label.
 Back to Heisenberg, n layman's terms, you can never fully control two intertwined variables. Say your wife goes to the shopping mall. You can either pin her down to one shop, but she may max out the credit card or you can narrow down the spending to something sensible but then she will be in all the shops of the mall.
Another but more profound way of explaining Heisenberg's theorem is that in a quantum world the observer cannot measure anything without interfering with it. The experience of wine is similar. Wine is entangled with its environment: the food you are having at the same time, the friends you are talking to, the very subject of the conversation, the sunset you are contemplating, the smells in the air around you. And the accuracy of the measurement you will be trying to do (be it acidity or tannins or those citrus overtones) will be affected by all these other factors even including your own state of mind.
You may have noticed that I have managed to mention in a wine speech quite a few quantum concepts including the uncertainty principle and even managed to sneak in at the very end entanglement (aka spooky action at a distance or magic)? This concludes the physics part of my speech. 
A bit about Grover Zampa Vineyards
Before I finish, just a few words about my own company. Much has happened last year, will happen this year too but the most interesting one for me is the future arrival of our first viticulture drone- the first in India with an Artificial Intelligence software.
This will help us digitalize our vineyards, identify diseases and treat them with surgical  strikes at an early stage and minimize the usage of water by reacting to actual hydric stress. It is part of our continuing efforts to save precious resources for the greater good and to improve quality and value. This and many other innovations we have been implementing recently are propelling Grover Zampa to the forefront of the technology in the wine industry worldwide.
As a closing sentence: In Vino Veritas, in Aqua Sanitas. In wine there is truth- in water health. Drink Responsibly.
Ravi Viswanathan
Chairman, Grover Zampa Group
Ravi Viswanathan of Grover Zampa dazzles Delegates at India Wine Summit
India Wine Summit' and 'delWine Excellent Awards' honour Hospitality Stalwarts
Bulgarian Ambassador encourages Bulgarian wines for Import at India Wine Summit
Rajeev Samant and AD Singh inducted into delWine Excellence Awards Hall of Fame
Ten Indian Top Women of Wine (WOW) Recognized at delWine Excellence Awards 2019
Creator of Bordeaux wine among star attractions at delWine Summit 2019
Wine Industry Ideas Exchange and Forum to Honour Hospitality Industry Achievers
Fourth edition of delWine Summit & Excellence Awards 2019
delWine Awards India's First Wine Industry-Centric Recognition A Grand Success
The delWine Excellence Awards 2016
Sula Vineyards wins three prestigious awards at the 'delWine Excellence Awards'
First delWine Excellence Awards announced
Del Wine Excellence Awards – First Wine Centric Awards in the Country Aims to Go National